Highlights Version ↓
---
Full Length Version ↓
---
Wedding Video showcasing the full length and highlights versions
Scott and Jordan, a delightful couple from Melbourne, decided to have a beach wedding at the beautiful West Beach Bathers Pavilion in St Kilda.
After months of preparations, the long anticipated day of the wedding had finally arrived. The guests started arriving around 4:30pm and not long after Scott arrived with his groomsmen at the venue and made his way down to meet some of his family and friends.
At 5pm all the guests had arrived. Some took their seats, while others decided to stand, waiting for Jordan's entrance. It was a beautiful day perfect for a beach wedding.
Jordan arrived just after 5pm in a Blue VW Kombi van together with her family and her bridesmaids, and made her way to the waiting room. The celebrant, a close friend of the couple who traveled from interstate, began the proceedings, by inviting all the guests to take up any vacant seats.
The excitement started to build when the music began to play, the guests attention was now locked to the bridesmaids walking down the aisle, and Scott didn't seem nervous in the slightest. He seemed quite comfortable being there joking with his groomsmen while the bridesmaids were walking down the aisle.
Now Jordan was making her way down the aisle with her father by her side. Jordan's father Michael seemed to be filled with pride and joy for his little girl, now all grown up and looking so beautiful in her wedding dress, walking down the aisle. He handed her over to Scott with an approval handshake and some pleasantries.
Jordan stood by Scott's side proud and occasionally joking and laughing. But got a little emotional for what her brother had to say for the reading. Scott's sister also had some lovely things to say in her reading, and both the couple appreciated those lovely words.
They  committed their vows to each other, and when Jordan said in her vowels that Scott is perfect even on the rare occasion he would make a mistake, everyone broke out into laughter. Then they sealed it with a kiss, a smile, and cheers. Finally Husband and Wife. They signed the marriage certificate and made their way with everyone congratulating them. Movie Scene Productions was there to capture all of their special moments with family, friends.
A perfect day for a perfect couple, sun was shining, beaming on the lovely couple enabling them to enjoy their wonderful day at the beach and the general public seemed to take interest in what was going on near by.
The lovely couple together with their bridal party returned to the VW kombi van for a short trip down the road to South Melbourne's Kerferd rd pier for their wedding photographs.
At about 6pm the MC introduced the bridal party and then the Bride and Groom. They broke into a dance routine and made their way to the bridal table.
The night was filled with lots of laughs, plenty of beer and drinks, tasty food, great music, belly laughter and happy tears, everyone was having a wonderful time for the beautiful couple.
The night ended with all the guests circling Scott & Jordan while they said their goodbyes to everyone. One last dance for the newlyweds and that's when Scott did a break-dance and grabbed Jordan and lifted her up and away they went.
We wish them a very happy and long marriage together.
Scott & Jordan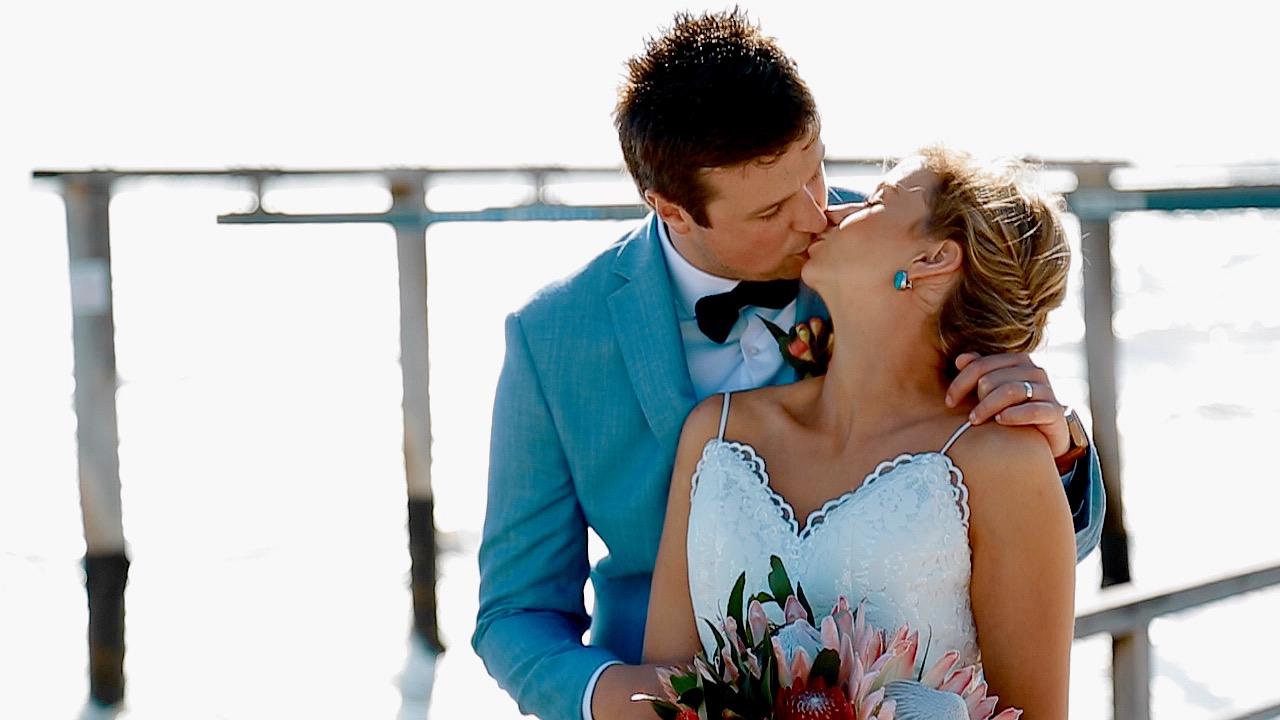 ---