Wedding Video showcasing the full length and highlights versions
A lovely couple from Melbourne, but now living in Queensland decided to journey together and travel to India to get married for a traditional Indian wedding celebrating with Harpreet's family and friends. There were 4 functions held over 1 week and more than 700 guests in total attended the functions. It began with a Traditional Henna Ceremony, then the Prayers and the Wedding at the Gurudwara (Sikh Temple). This was followed by another function held at Cavendish Banquet Hall with lots of Indian food and dancing. The last function was held at Punjabi by Nature, which was a beautiful fine dining restaurant.
Kiara always dreamt of a traditional church wedding, so when they had finished their beautiful Indian holiday, they travelled back home where she began to organise her Australian wedding, to celebrate with family and friends in Melbourne.
After months of preparations, the long anticipated day of the wedding had finally arrived. The wedding first began in the beautiful St John's Uniting Church in Essendon, but preparations were made in the morning at the Bride's house from makeup, hair, and flowers to finally putting on her wedding dress.
Harpreet arrived at the church at 2pm with his family and made his way down to meet the Minister of the Church, whilst Kiara's parents were filled with pride and joy to see their little girl all grown up and looking so beautiful.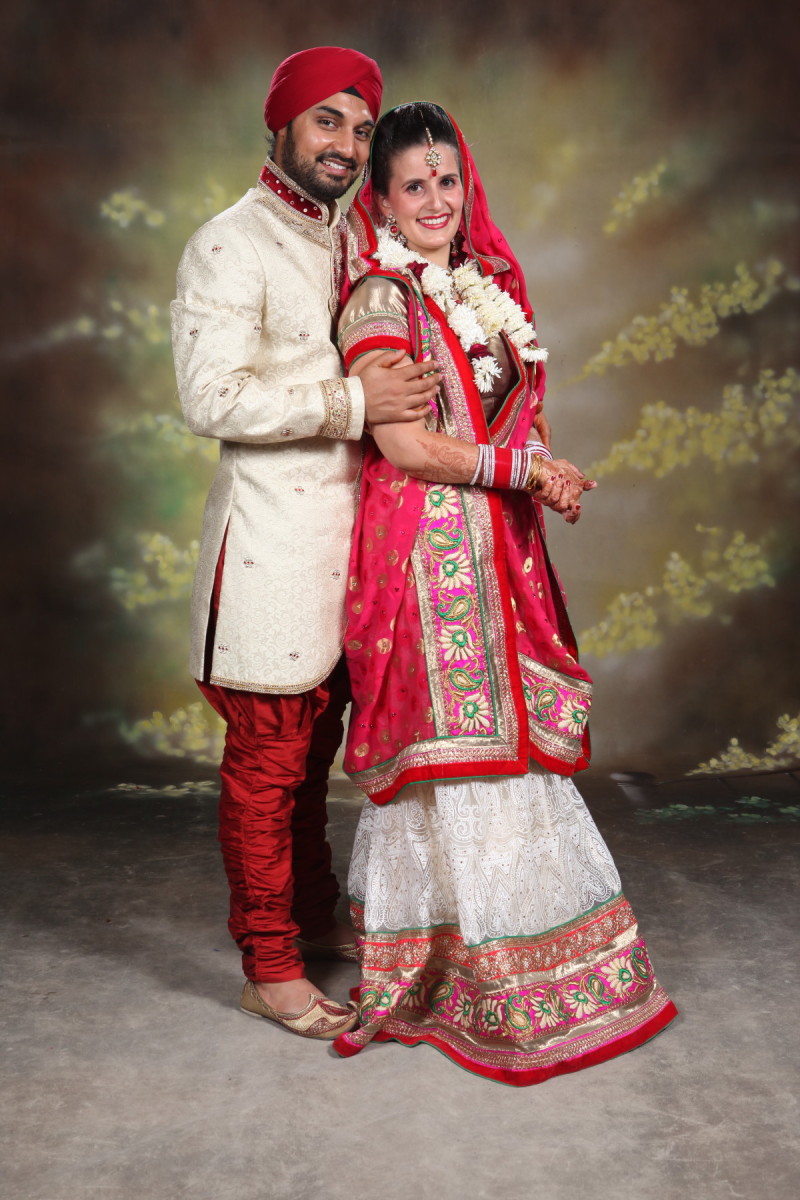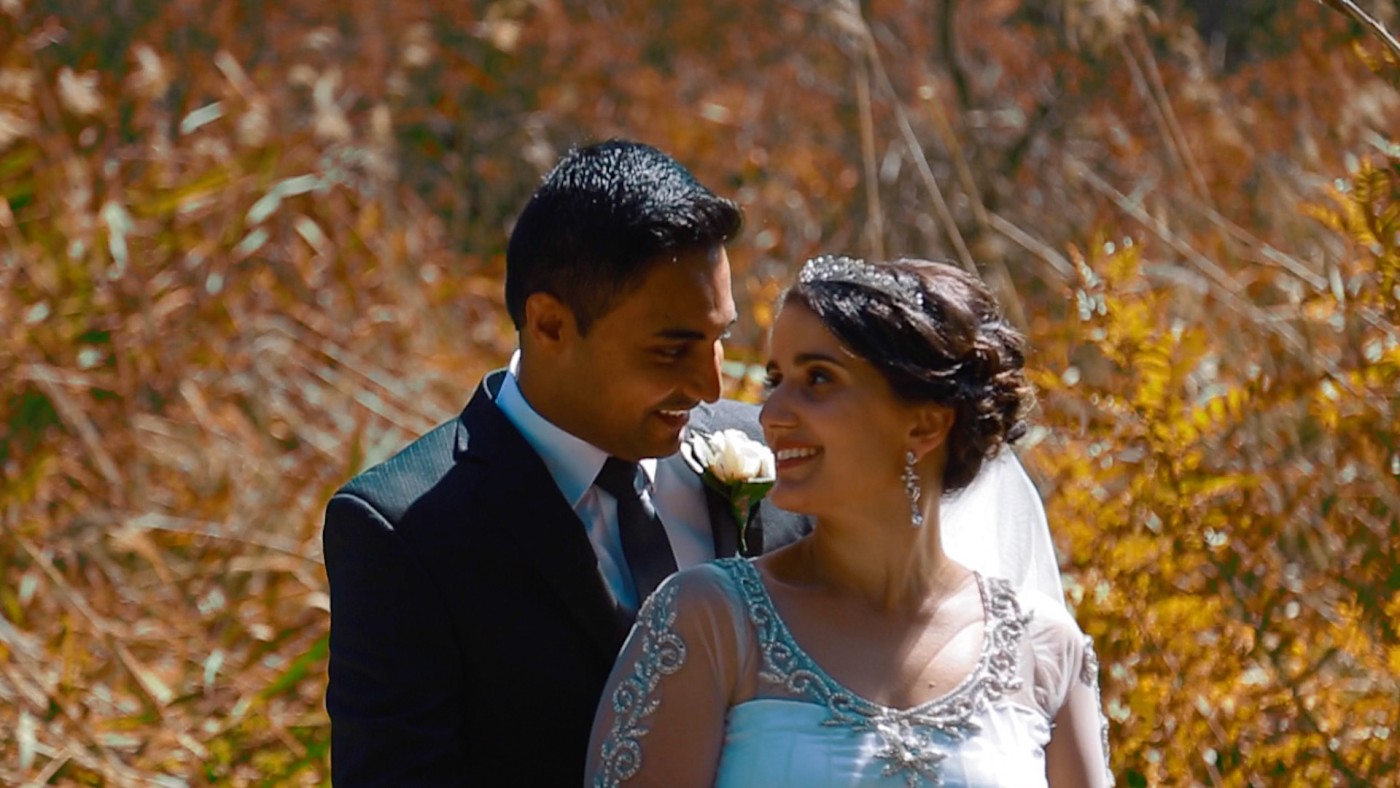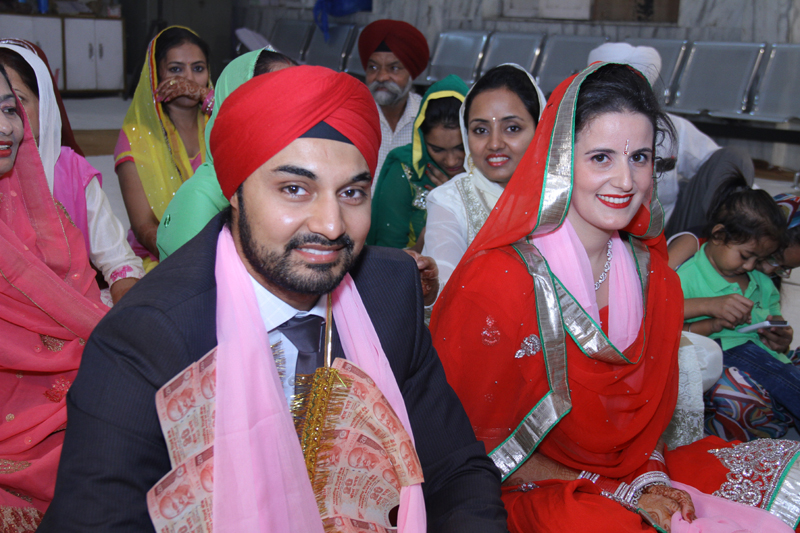 All the guests had arrived and were seated waiting for Kiara's entrance. The excitement was building at St John Uniting Church where Harpreet seemed anxious waiting to see his love walk down the aisle in her beautiful wedding gown knowing that he will be with her for the rest of his life.
The pianist began to play the organ and the music started to echo in the church, the atmosphere was set, the guests stood up to view the bride, and Harpreet was staring at Kiara down the aisle, and seemed to be amazed with what he was seeing, probably thinking how lucky he was to find the love of his life.
Kiara's Father, Mario was walking her down the aisle and seemed very proud of his daughter and the woman she had become. He handed her over to Harpreet with a handshake and then kissed his daughter on the cheek.
Kiara stood by Harpreet's side at the alter, proud and knowing that they will be by each others' side for the rest of their lives.
They committed their vows to each other, and sealed it with a kiss, a smile, and cheers. Finally Husband and Wife, they signed the marriage certificate and made their way outside with everyone congratulating them. Movie Scene Production was there to capture all of their special moments with family, friends and then the two of them.
A perfect day for a perfect couple, sun was shining, beaming on the lovely couple enabling them to enjoy their wonderful day.
The wonderful day ended up at Rosleyn Court Homestead, a beautiful Victorian Homestead built in 1905 with magnificent views of the gardens. The guests first mingled with pre-dinner drinks and appetisers, then later seated to view the couple. The MC introduced the family and then the Bride and Groom.
The night was filled with Italian and Indian tradition, culture, food and drinks, a special night with vibrant colours, music, laughter and tears.
Kiara had a special moment dancing with her Father, a moment that seemed will stay with her, as her Father seemed to be holding back his emotions, probably wondering where all the years had gone.
A moment of entertainment was when Harpreet's Sister introduced the style of Bollywood moves to Kiara's family
The night ended with all the guests popping streaming firecrackers, which left the night with a big bang.
We wish them a very happy and long marriage together.
You can view the full length video below which runs for just under 2hrs or the highlights video above which runs for under 5 minutes.
The Full Length Version
---
Photos Courtesy of National Movies, New Delhi