The Jackson's Unity Tour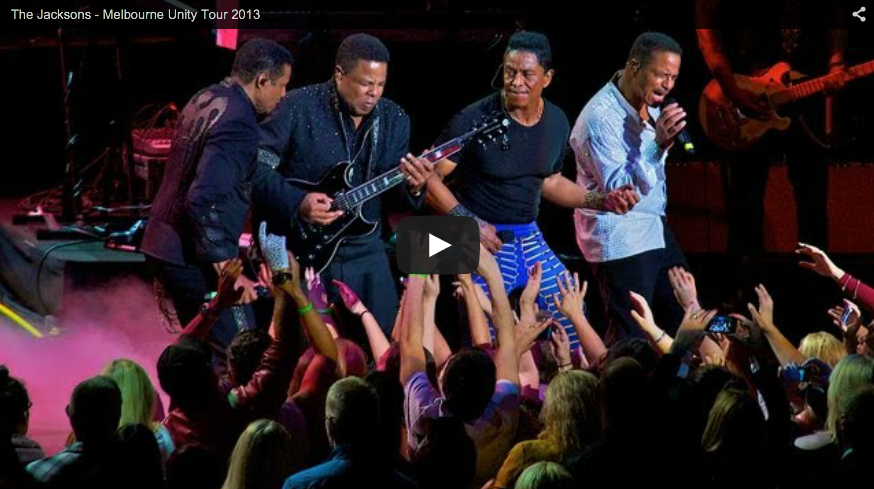 The Jackson's – Jackie, Jermaine, Marlon and Tito Jackson performed in Melbourne after they had been absent for nearly 30 years.
On Tuesday March 19th they performed at The Melbourne Convention & Exhibition Center for one special night paying tribute to their late brother Michael Jackson, calling it the 'Unity' tour.
The tour also marks the first time the brothers have toured as the Jacksons without brother Michael who died in June 2009. The tour began on June 20, 2012, and ended on July 27, 2013.
Will they tour again or will this be their last?
http://www.youtube.com/watch?v=jk7irPHYT7k
The songs they performed:
1. "Can You Feel It"
2. "Blame It On The Boogie"
3. "I Wanna Be Where You Are" (from Michael Jackson's Got To Be There)
4. "Rock With You" (from Michael Jackson's Off The Wall)
5. "Show You The Way To Go"
6. "Lovely One"
7. "We're Here To Entertain You" (Video Interlude)
8. "Good Times"
9. "Lookin' Through the Windows"
10. "Time Waits for No One"
11. "Heaven Knows I Love You, Girl"
12. "Push Me Away"
13. "Man of War"
14. "Gone Too Soon" (From Michael Jackson's Dangerous)
15. "The Jackson 5 Medley"

"I Want You Back"
"ABC"
"The Love You Save"
"Never Can Say Goodbye"

16. "All I Do Is Think Of You"
17. "I'll Be There"
18. "Dynamite" (From Jermaine Jackson's Dynamite)
19. "Let's Get Serious" (From Jermaine Jackson's Let's Get Serious) (Replaced by "When the Rain Begins to Fall" for the European leg of the tour.)
20. "Do What You Do" (From Jermaine Jackson's Dynamite) (Omitted from the European leg of the tour.)
21. "Can't Let Her Get Away" (includes Band Introduction) (From Michael Jackson's Dangerous)
22. "This Place Hotel"
23. "Wanna Be Startin' Somethin'" (from Michael Jackson's Thriller)
24. "Don't Stop 'Til You Get Enough" (from Michael Jackson's Off The Wall)
25. "Shake Your Body (Down To The Ground)"